Discover the awesome abilities that have already saved lives.

By choosing an exclusive Fairbairn Protocol system, you connect to the most effective fighting method ever battle-tested.
Attention! Military and Law-Enforcement. Exclusive for 2021 - We introduce our "Feed the Dog" program. Get anywhere in the world, live onsite no-instructor-fee training in W.E. Fairbairn's Gutter Fighting methods. We will go where ever you are, anywhere in the world, hot or not! Interested? Get the info here!
Specialized Programs are available for Law Enforcement, Security Groups, and Military Organizations.
Available to everyday people, anyone can acquire Live Courses, Seminars, or Theory Presentations. Or choose a Overwatch International Remote-training module that literally puts effective combatives training directly into your pocket, on demand, where ever you are.
In the Montreal, Québec area, you can choose between hosting our live courses on demand, or attending our ongoing self-defense courses.  Need customized training? Many of our courses can be adapted to your specific requirements.
All courses are
available in individual courses or as customized bundles.
Des courses en français peut etre fournie sur demande
We wish to remind you that all of our courses are available to private citizens as well as to professionals
Any organization, club, or individual who may be interested in hosting or adding a Fairbairn Protocol course to their current program should contact us at email  info@h2h-selfdefense.com
All requests will be answered within two weeks from the date of receipt
Theoretical/Classroom Type Courses
Classroom/Theoretical courses are those usually conducted in a classroom setting and provide instruction in subject-specific information such as strategy & tactics, best practices, and anatomical targeting.
This variable duration, theoretical classroom course, provides lifesaving instruction in "Situational-awareness". Among the topics addressed in this comprehensive course are thinking with a predator's mind, threat ambush and illegal entry evaluation and prevention, vehicle and pedestrian security, escape and evasion, and carjacking.
From the perspective of armed and unarmed combat, this rare and highly specialized course, instills a detailed understanding of how to effectively target the human body. This deeper comprehension of target-related issues, fosters an offensive and defensive capability that can be directly exploited by any non-firing or edged/stabbing weapon.
Elite Level Combatives Training - Choose from Live Onsite courses or Remote-training modules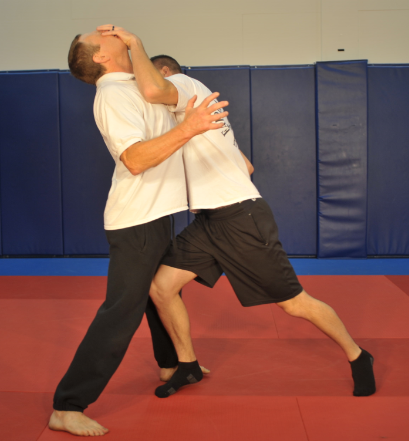 Our Physical Technique Courses offer live training, and interactive Remote-training, based in the fighting methods of W.E. Fairbairn. Now available to both individuals, groups, and professionals, these hands-on physical skills are can be taught in almost any area or location. We also offer corporate training options.